RCF2031 - RESPA CF2 Fresh Air Cab Precleaner with HEPA Filter
RESPA CF2
The RESPA CF2 combines a precleaner, pressurizer, and high-efficiency filter in one compact unit, providing clean, fresh air inside the operator cab. The RESPA precleaning technology ejects over 90% of the largest dust and debris before they reach the filtration stage, leaving only the smallest particles to be addressed by Sy-Klone's patented, self-cleaning filter. RESPA's self-cleaning filter and filter housing continuously shed dust and debris, ejecting it out of the system, and promoting longer filter life. Providing clean air to the machine's HVAC system keeping the evaporator core clean, reducing maintenance and repairs.
Features and Benefits
High-efficiency filter media arrests respirable dust, debris, and other airborne contaminants.
Reduce occupational exposure to harmful, respirable dust and debris, improve air quality inside of operator enclosures, including heavy machinery cabs, fixed equipment, control rooms and more
Compact, powered precleaner, filter, and pressurizer in single, small-footprint package
Patented, air handling process and self-cleaning filter extends filter life
Heavy-duty design enables optimal performance and extended life, even in extreme conditions
Reduce total cost of ownership, removing dust and debris from cab air, reduces air conditioning system and evaporator core maintenance intervals
Versatile configuration with adjustable outlet and ejection port positions accommodates variety of installations and applications
Interchangeable filter options for particulate and odor applications (Merv16, HEPA, Charcoal Odor+HEPA)
RadialSHIELD filter design ensures seal integrity, eliminating filter by-pass and dust downstream
The Benefit of Clean Air
Sy-Klone's RESPA systems and filters keeps your crew safer and more comfortable, while keeping machines running longer.
Improved operator health and safety; reduce occupational exposure to respirable dust and debris, which may reduce risk of chronic lower lung disease
Increased operator comfort: well-running HVAC systems improve the operator environment and support employee retention and recruitment
Reduced HVAC maintenance costs: evaporator core remains clean
Improved machine uptime and productivity; machines meet HVAC service intervals; cab electronics remain clean
How the Sy-Klone RESPA cab air quality system works? The Sy-Klone Effect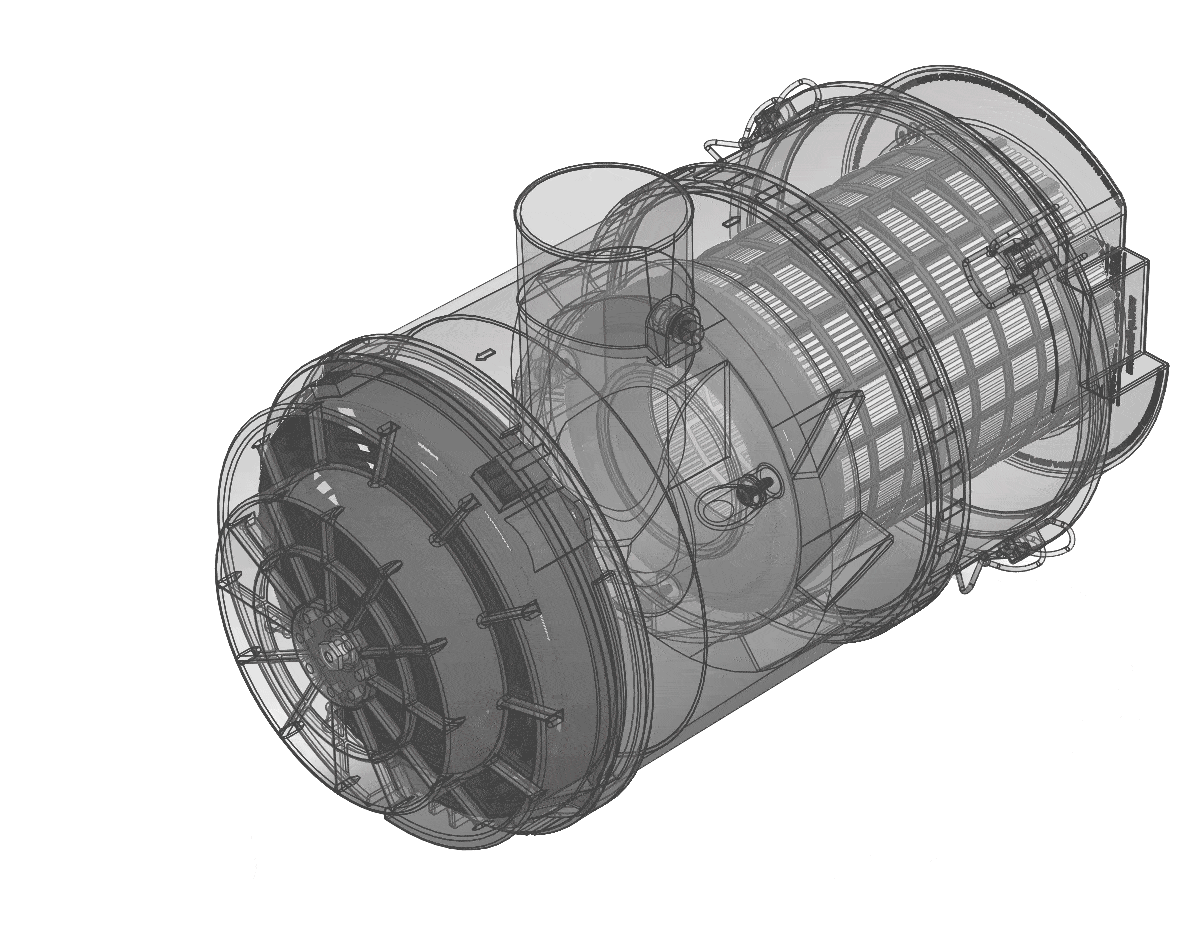 Dirty air enters the precleaner housing through the inlet end.
The debris-laden air is directed into a rotation – a "Sy-Klone" – pushing the debris to the outside walls through centrifugal force. The debris rotates towards the outlet end.
Debris is ejected through the ejection port and the fine dust that remains passes through Sy-Klone's self-cleaning filter.
After passing through a high-efficiency filter, clean air travels downstream to the air conditioning system and operator cab.
The separation and ejection of debris, and high-efficiency filtering, all of which precleans air, is The Sy-Klone Effect.
---